HELLO PARIS!
A last minute decision to visit Paris during Maison et Objet and Paris Déco Off has paid off!
Of course, we couldn't anticipate that the trip which usually takes 22 hours from Australia ended up taking 36 hours!  Delays aside,  there is nothing like arriving in Paris, doesn't matter what time of year it is.
Below are a few snippets from the past four days
Beautiful combination of Orchids and budding twigs in the lobby of our hotel.
Sorry – just had to share this delicious 'Brioche' with 'Abricot' preserve which I've only had once in the interests of needing to fit into my clothes for the next 8 days!
Hundreds of roses Hotel Costes florist.
I never grow tired of strolling through the Palais Royale.
The stark beauty of one of the avenues at Palais Royale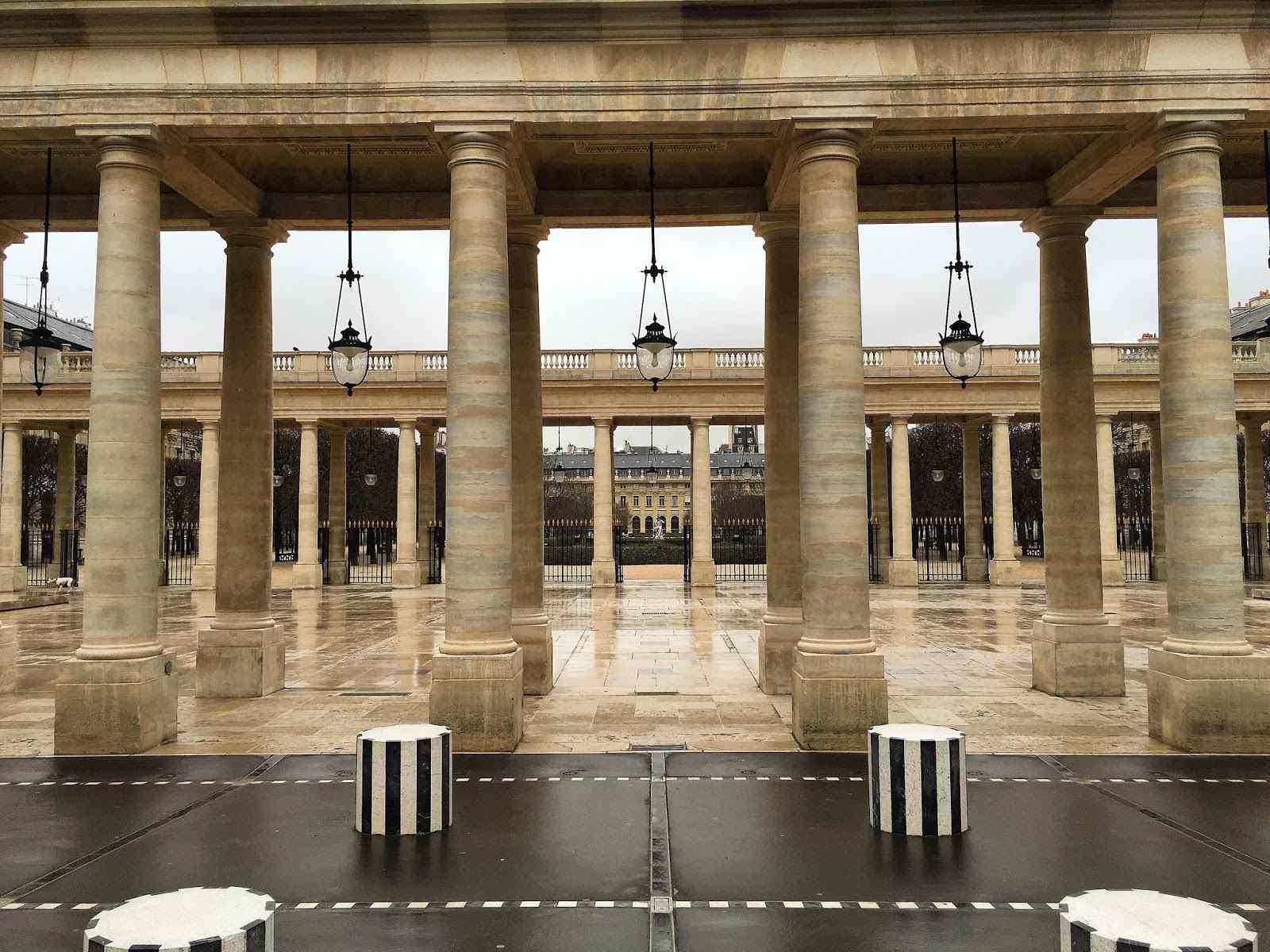 Palais Royale
The very charming Gallerie Vivienne.  Those mosaic floors are exquisite, as are the shop fronts.
On Sunday we made the trip out to Maison et Objet and below are random shots of what caught my eye.  This most important trade fair, held twice a year, sets the International Design Agenda.  Literally thousands of people, most of whom drag 'wheely' bags behind them arrive at the venue, about 20 kilometres North of Paris, each day. There are 7 enormous halls and other than being foot-fit to tackle the distances,  the over-heated venue was challenging!
Hand-blown glass vases in soft organic shapes and colours.
Beautiful candles – in every colour imaginable, all displayed in these metal cast boxes, the wicks of the candles still attached to each other.   
Lots of gorgeous basketware
The faux flower/plant industry is vast!!
Lots of glassware and ceramic ware in these unusual shapes and colours.
I did love the colour and style of these pieces.
These flowers were fresh – it's hard to tell from the photo – the glass vase was enormous!
Bordallo Pinheiro had a huge display.  They manufacture so much more than their cabbage ware for which they have become so famous.
Fresh again (thank goodness!)
I also spent time at Ancien et Moderne, the Pop-up shop at 16 rue Guénégaud, and met the talented women involved in conceptualising and creating this beautiful space.  Read more about the Pop-up  here. Meeting Stacey Bewkes, a long time blogging friend and author of renowned Quintessence Blog, was a special highlight.
Here is Jill Barnes-Dacey giving a demonstration of her beautiful decoupage work onto glass.
Another of Jill Barnes-Dacey's works.  
We so enjoyed strolling around the Left Bank where 106 Brands were receiving people into their showrooms, showing new collections.
Pierre Frey's colourful tumble of cushions
Jim Thompson's exotic window
Rue de Furstenberg
My first experience of lunching at Ralph Lauren, yesterday,  on Rue Saint Germain, did not disappoint.
We sat inside and although there are heaters in the courtyard,  they only serve drinks out there during the Winter months.
I am a huge fan of the table cloth, a trend which seems to be disappearing sadly.  The napery at Ralph's was beautiful and each table was adorned with these beautiful red roses.
The leather banquette, against the timber panelling creates a wonderfully cosy, luxurious atmosphere.
The day ended with a visit to Dior Home in Rue de Montaigne and sharing a cup of tea with the lovely Doris Brynner and Stacey Bewkes.  The store is looking as lovely as ever and below are a couple of iPhone shots.
Exquisite hand made porcelain by the maestro Vladimir Kanevsky
A very large, exquisite vase – imagine it displaying  a couple of huge green leaves …
Beautiful Lilly of the Valley design
The Ghinko design – a personal favourite
l 
It was as beautiful as always and delightful to chat to the charming people who work there.
This trip has been accompanied by jet lag for some reason, and as I write this, there is a continual need to check whether it's time for breakfast yet!  Today we plan to visit Musée d'Orsay and Musée de l'Orangerie.
Until next time – Au revoir!!
Follow me on Instagram: @jennyroseinnes
---